G R Sinha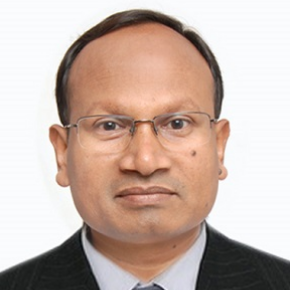 G R Sinha
Nationality: India
Research Field: Image Processing and Computer Vision, Assessment of Student Learning Outcomes.
Educational Experience:
B.E in Electronics Engineering and M.Tech in Computer Technology with Gold Medal from National Insitute of Technology Raipur, India
Ph.D. in Electronics & Telecommunication Engineering from Chhattisgarh Swami Vivekanand Technical University (CSVTU) Bhilai, India.
Visiting Professor (Honorary) in Sri Lanka Technological Campus Colombo during 2019-2020.
Visiting Professor for teaching Short Graduate Course on Cognitive Science and Brain Computing Research at University of Sannio Italy during September 2020-March 2021.
Teaching and Researching Experience: 22 years
Professor (on deputation) at Myanmar Institute of Information Technology (MIIT) Mandalay, Myanmar
Adjunct Professor at International Institute of Information Technology (IIIT) Bangalore, India
Has been Dean of Faculty and Executive Council Member of CSVTU and currently a member of Senate of MIIT.
Associate Editor and Editorial Member of 05 SCI/Scopus indexed Journals
Delivering ACM lectures as ACM Distinguished Speaker in the field of DSP since 2017 across the world.
Expert Member for Vocational Training Program by Tata Institute of Social Sciences (TISS) for Two Years (2017-2019)
Chhattisgarh Representative of IEEE MP Sub-Section Executive Council (2014-2017)
Distinguished Speaker in the field of Digital Image Processing by Computer Society of India (2015)
Distinguished IEEE Lecturer in IEEE India council for Bombay section
Member of many International/National Professional bodies like IEEE, ACM, ISTE, IETE, CSI, ISCA, and IEI.
Vice President of Computer Society of India for Bhilai Chapter for two consecutive years.
Expertise:
Interested in giving talks in such areas as Medical/Biomedical Image Processing, Cognitive Science, Assessment of Student Learning Outcomes, Accreditation Process.
Delivered more than 50 Keynote/Invited Talks and Chaired many Technical Sessions in International Conferences across the world such as Singapore, Myanmar, Sri Lanka, Irvine, Italy and India.
Recognition

Published 250 Research Papers/Book Chapters/Books
Received 12 International/National Level Awards